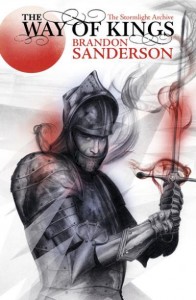 I recently finished reading The Way of Kings, book one of Brandon Sanderson's Stormlight Archive, so I thought I'd write a short review of it.
I first came across Brandon Sanderson when I read his Mistborn Trilogy. I'd never heard of him before, but the books were marked with a 'Staff recommend' sticker in Waterstones and so I thought I'd give them a go. I absolutely LOVED them and think they're a great series of books, and I'm really looking forward to the fourth book he has written set in the Mistborn universe that is due out later this year. I've also since learnt that Sanderson is quite famous for his work on completing Robert Jordan's Wheel of Time series, but I've never read any Jordan so that doesn't mean a lot to me (it might to you, if you're a fantasy buff).
The Way of Kings is quite a mammoth book to pick up if you haven't read any Sanderson before. It was originally published in two halves because it is so huge, but the edition I was bought combines the two into a hefty 1008 pages. Even at that length though I didn't find it heavy going, and I think that's due to the way it is structured (divided up into distinct parts and interludes) and the three separate story arcs that run through it. There are three protagonists, and each chapter is told from the viewpoint of one of them. I suppose that is partly why the book is so long, because there are three stories to be told, but it certainly stops you getting bored with any one arc, and at times it makes you desperate to read on when something exciting happens but the next chapter switches to a different character.
One of the things Sanderson does well and has received acclaim for is what some people call 'secondary creation': the art of creating a detailed world with a rich history to set your story in. In both The Way of Kings and the Mistborn books, this also involves creating novel systems of magic, both of which really are unlike anything I've seen elsewhere. They take a bit of getting used to when you pick his books up, but once you have accepted them and learnt the terminology they aren't distracting and make for some very exciting action scenes.
The Way of Kings is very grand in scale at times, with large battles and a good deal of politicking between rival houses of noblemen, but also manages to focus down onto some believable, sympathetic and troubled characters. In that regard you get the best of both worlds, as it has an epic feel intertwined with the personal and emotional journeys of three individuals.
If I had to make a criticism of the book, I'd say that it is quite frustrating and cannot be read as a standalone novel. It really is the first of a series, and you're left desperate to pick up the second book straight after the first to find out what happens. Unfortunately it hasn't been published yet, and I'm not sure how long I'll have to wait before I get my hands on it.
My other key criticism is of the combined edition I read, which contains by far the largest number of typographical and grammatical errors I've ever seen in a published novel. It's almost as if it has never been proof-read, which seems bizarre given it must have come out after the publication of the two individual volumes. Gollancz, the publishers, should be ashamed of themselves, because although the errors aren't a barrier to understanding what's going on, they are distracting and disruptive to the flow of the narrative.
I haven't said very much about what happens in the story, but that's because I didn't want this to turn into a summary, and so much happens in the book that it would be hard to stop it doing so. You can read the product description on Amazon if you want to get a flavour of the content. I recommend The Way of Kings very highly if you enjoy fantasy novels though, and particularly if you enjoyed his Mistborn books. Of the two, I'd say the Mistborn novels are stronger, but The Way of Kings is only the first in the series and I'll be very keen to see where he takes it next.