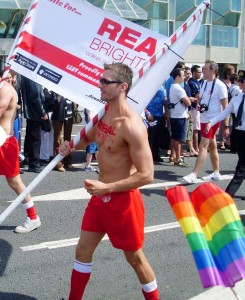 I have been going to Brighton Pride since 2000, and this year's was one of the best I have been to in absolutely ages.
After the last few years of failing abysmally to cover their costs, the organising committee took the controversial decision to fence off the festival part of the event and charge people to get in this year. Many people threw up their hands in horror.
"It's Pride, it's meant to be inclusive! Inclusive means free!" some said.
"Well I'm not fucking going then. I'll go and have a free party on the beach instead," others grumbled.
But after all the complaining, and the initially slow ticket sales, I have to say that I think ticketing the event was a near total success.
Last year, Preston Park was awful. Absolutely awful, and I did not enjoy it at all. Well, looking back at my blog post I apparently did enjoy it regardless, but it was still awful. 120,000 people packed into the park, to the point where you could barely move and had to spend most of the time pushing through a huge throng of people, trying not to trip over the ankle-deep litter on the floor. There was also quite a large proportion of people who weren't there to celebrate diversity; they were just there to get smashed. There were large groups of drunk kids and street-drinker types, and it really didn't feel like a particularly nice place to be at times.
So halving the numbers (I suspect the final total will be 60,000 or fewer in the park this year) was great. It got rid of all the people who just wanted to get trashed, and allowed the people who were there to do some astounding things like: use the toilet without having to wait for half an hour; get to a bar and buy a drink without having to wait for half an hour; sit on the grass; actually walk around.
They also had a live music stage again, for the first time in a good few years, and it has been something I've always missed. I'm not that into standing in a sweaty dance tent jiggling up and down to house music at 2pm, so a music stage provided a much more civilised place where you could spend some time and enjoy yourself without needing to do a lot.
They had some very good acts on too, with the biggest names being Alexandra Burke and Joe McElderry. Sadly, in the end we couldn't be bothered to wait for either of them to come on before we sloped off home, even though we had planned to. They just put them on too late – they were scheduled for 5.15pm, but by 6pm there was still no sign of them so we got bored. But before that, I very much enjoyed seeing Sonia (yes Sonia! From the 80s! No, she's not dead!), and Booty Luv, and our new favourite boyband: Boy Banned. It's not the best name for a boyband, but they were very entertaining, and I have a bit of a crush on Ethan now. He's the one in the vest, here's a picture: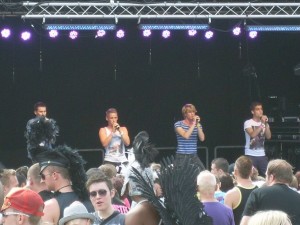 I really hope that Pride made enough money from the ticket sales to cover their costs this year, and that they keep the overall format in the future. I think it's quite telling that I have pretty much never put anything in the collection buckets at Pride in the whole time I've been going (although I do donate via the fundraising the local bars do), so I have myself been part of the problem with it not making enough money. But once they stuck a ticket price on it, I paid up and don't regret it. I'm sure I won't be the only one. So if it makes it work financially it can only be a good thing.
As well as the park being better this year, I also thought the parade was unusually good, with a large number of floats and some good outfits.
The street parties in St James's Street were okaaaay, but I found them over-crowded and afflicted by some of the pikey street-drinker types I mentioned earlier.
Chris spent most of the street party doing underwear modelling in a shop window as a favour to some friends, so that was nice for him.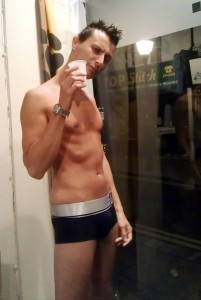 The other best bit for me though was the club night we went to on Saturday night. It was an old school return of Dynamite Boogaloo, our favourite club night for years and years that they stopped doing in 2009. And it was amazing! So much fun. It's exactly our sort of music (because our sort of music was pretty much molded by Boogaloo anyway), and we knew quite a few people there, and I just danced like a crazy fool for hours and hours and hours. I wasn't even particularly drunk; I was just drunk on Boogaloo excitement I think.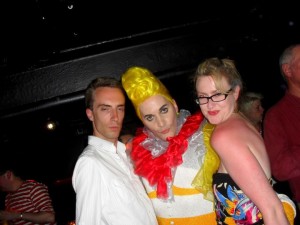 So yes, that was my weekend, and it was really good. Thanks to Brighton Pride and to Boogaloo Stu, and to all the hot boys who swanned around in various states of undress throughout. It was really rather pleasant.