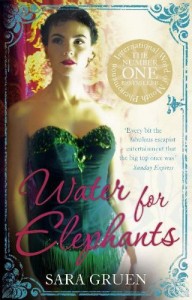 Over the last week I have read Water for Elephants by Sara Gruen. It was another recommendation from a friend, as I was looking for something a bit more modern to read on my Kindle that wasn't set in the 1800s. I actually paid for this book too, which I think is only the second time I've paid for something on Kindle; all the other stuff I have read has been free.
Water for Elephants is a great book and I heartily recommend it. It has recently been made into a film that I think is going to be released in the next couple of months, starring Robert Pattinson and Reese Witherspoon, and I was actually quite pleased to be able to read it before they start publicising the film so I can say "oh yes, I've read the book of that" if people talk about it.
The novel is set in 1930s America, and is the story of a young man, Jacob, who after suffering some personal hardships impulsively leaves town one night and jumps onto a passing train. The train turns out to belong to a travelling circus, and having nowhere else to go and having almost finished a degree in veterinary medicine, Jacob becomes part of the circus and is put in charge of caring for the animals. While there he meets Marlena, the beautiful star of the equestrian act,  her brutal husband August (you can probably see where this is going), and Rosie, a lovable but seemingly untrainable elephant.
It is a great and passionate novel, and the setting of the circus gives it a unique feel and atmosphere. It's a life of sparkle and sadness, dazzle and desperation. You can tell the author spent a lot of time researching it, and many of the more minor events come from real-life experiences of circusfolk that she read about.
It is really good, and only took me a week to read, so if you've got a bit of time or want something to read on holiday, I'd really recommend it.