It has been quite a busy week with house stuff, and we have managed to sort loads of things out and started to get it looking quite nice.
Last weekend I spent about £150 in a garden centre, B&Q and Homebase, and got home clutching all my homely wares thinking 'what the fuck has happened to me?' I've never needed to do any of this sort of stuff before – DIY and buying pot plants and things – simply because we've never had any need to. And now that I need to do it (and want to do it, because I'm quite house proud) I feel like I've suddenly turned into my parents.
Most of that money, and then a large part of Friday, Saturday AND Sunday, went on cleaning up our decked patio area at the back. Honestly, it was disgusting out there. I think the previous owners must never have cleaned it, and they pretty much just used it as a space for their massive horse-like dog to sit. We can add cleaning the decking to the long list of things they never did in the flat, of which more later.
It was covered in grime, and bird crap, and weird mossy algae stuff, so that it was basically a murky grey with green bits. This is what it looked like when we bought the place: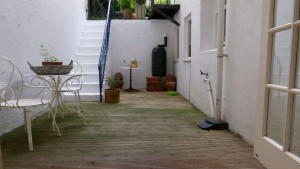 It's not too bad in the picture I suppose, but it was pretty horrible close up, and you didn't really want to walk around on it.
So first of all we spent three hours on Friday sweeping it and the scrubbing it with soapy water. Then on Saturday Chris scrubbed it again with special decking cleaner that brought it up a lovely sandy sort of colour and which magically deleted all the green from it. Then he had to scrub it again to wash the cleaner off, so he pretty much spent the whole of Saturday on his knees while I had a little sit down on the sofa. Then on Sunday, finally, we gave it two coats of decking stain and put our new plants out there, and now it looks like this: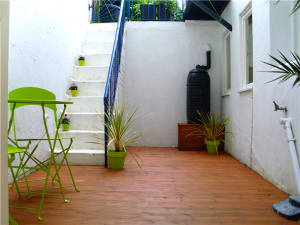 It's so much nicer! It's really clean now, and it feels much nicer to go out there. Of course it has rained pretty much every day since we finished the decking, so I haven't been able to enjoy it really, but at least it looks better.
While we were out there, the lady who owns the flat upstairs came out to say hello, so I got to meet her and have a chat. I'll refer to her as Upstairs Lady from now on. The family of elephant children have FINALLY fucked off, so we no longer have the noise of them pounding their fat little feet up and down over our heads all day, which has been great. Upstairs Lady is very nice, as is her partner guy. She's a bit of a hippy, like I thought, and the flat is her second home that she rents out when she's not using it. We seemed to get on quite well, and she says we're welcome to sit up in her garden (at the top of those steps in the pictures) when she's not there, as it gets much more sun up there than on our deck. I'm hoping that if she likes us, she might be more inclined to do right by us and ensure she doesn't rent the flat out to any idiots. She's fairly protective of it – you have to pay her a £300 security deposit when you rent it, even if you're only staying a few nights – so hopefully it'll be only nice people she lets stay there. It has certainly been a lot quieter having the two of them up there, so if it's mainly adults I think it might not be too bad. The noise of them walking is fairly minimal and is ignorable, and although you can hear their television in our bedroom it so far hasn't disturbed me too much. I really hope it turns out OK, as it has been the single biggest negative point about living here so far, and I suppose it was naive of me not to anticipate it when living in a basement flat.
As well as all those housey things, today we had two gas engineers come round to service our boiler and gas fire. First of all, they were both about 20 and were FIT. Well one of them was anyway, the other was only after-four-or-five-vodkas doable. But that hardly ever happens! Tradesman are always 50 and paunchy. So I'll definitely be using that company again anyway. In fact I might go and jam something into our boiler right now so I can call them out again.
The previous owners, surprise surprise, had lived here for two years but had never had the boiler or fire serviced, had no idea when they were last serviced and had pretty much no maintenance history for either of them. This was a bit of an annoyance for me when we bought the flat, as it gave me the impression they hadn't taken very good care of it. And lo and behold I turned out to be completely right! The gas guys came round, the fit one got on his hands and knees by the fire and showed off his pert behind for a few minutes, and then stood up and said "Yeah, this fire is unsafe and poses a risk to life. As a gas safe engineer, I'm legally obliged to disconnect it, as I can't leave a dangerous appliance without disabling it." So, er, thanks for that you stupid cunts!
He said that basically the fire is too big not to have a proper air vent next to it, and should never have been installed. If you used it for a longish period of time it would eventually deplete the oxygen in the room and pollute the air with its waste gases, and presumably suffocate you to death if you'd fallen asleep or something. So what kind of twat installed that there then?? And why didn't the owners ever check it? So GAH that was annoying. I now have a large, ugly, manky old fire in my hearth that I can't use even if I wanted to. I'd rather it be disconnected and safe though – that was the whole point of us having everything serviced, as I didn't want to get killed by faulty appliances.
The boiler turned out to be fine, and the central heating all seems to work OK, which was my other main concern as we haven't needed to switch the heating on yet. As part of their checks though, they went out to inspect the gas meter in the under-pavement storage vault outside. And guess what again??
"Your meter's got a gas leak from the nipple on the top."
"Say nipple a few more times for me, it's turning me on." (I only said this in my head, I'm not a pervert. I'm only an in-the-head pervert)
"I have to report it to Transco, and they'll come within two hours as it's classed as a leak emergency to replace your meter. In the meantime I'm obliged to turn your gas off."
So fucking thanks again, owner twats! They said it was only a minor leak, but still, there were FLAMMABLE GASES leaking away outside my bedroom window.
The Transco guys came within about half an hour, and initially said our address didn't exist on their database so they weren't allowed to change the meter and we weren't allowed to have any gas. This was rather stressful, as obviously we DO have an address and there obviously IS gas going into it, but the guy was very nice and did some to-ing and fro-ing on his mobile to his office until finally they decided we either existed or it didn't matter and they changed the meter.
So hurrah! I now shouldn't be living in a gassy deathtrap. No thanks to the previous owners though, who were apparently lazy wankers.
That should, finally, be most of the major jobs done that we needed to do in the flat. We've got guests coming for the bank holiday weekend, so I hope they're suitably impressed, and I hope that everything just stays fixed and working for a bit. I'm not sure I have the stamina to be sorting out anything else for a while!