We had a very nice trip away to Sitges at the start of the summer holidays. We haven't had a proper holiday in ages, not since we went to New York in 2010, so it was lovely to go somewhere new and get a bit of sun.
We haven't been to Sitges before, but some friends recommended it to us as being 'like Gran Canaria but much classier', which is a fairly accurate description of it. It's very gay, for those of you who don't know, and has 20 or more gay bars and clubs. But while Gran Canaria is full of broken pavements, restaurants where you sit on patio furniture, and the gay bars are all in a car park-like concrete monstrosity, Sitges is an old Spanish village next to Barcelona with lovely wide promenades, palm trees, and lots of old buildings with little balconies. It's also only a couple of hours away by plane as opposed to four hours to Gran Canaria; and when you can only fly during the school holidays, halving the time you're stuck in a metal tube full of ungrateful little brats is a definite bonus.
We stayed at the Hotel Melia, which was a bit further away from the centre of town than many of the hotels, but it was really nice. We had a beautiful view of a little cove thing from our balcony: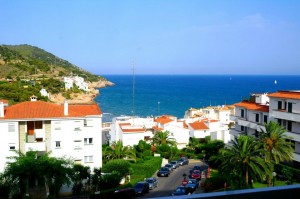 And the hotel had a nice big pool and lawn area to lounge in during the day time. Sitges has lots of beaches, and that's where everyone goes if they don't have a pool at their hotel (most hotels don't seem to), but I did find them quite crowded and the wind chucked the sand up into your face. So having the pool was great, and then we could just go for walks on the beach when we felt like it. This is me on a walk on the beach, see: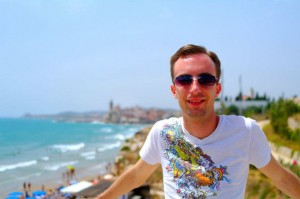 We were only there for five nights, but that was plenty for me. It was boiling hot (88 degrees in the day, 70 at night), and I always find our holidays exhausting because we're out drinking every night. After five days my body was in full rebellion and demanding I return to work just so I could have a rest.
We enjoyed lots of brightly coloured cocktails: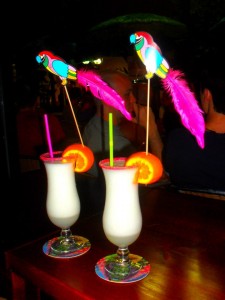 And I tried out my first foam party. That was another recommendation from our friends, who told us that the gay foam parties are the place to be, as all the guys are hot and people get all sexy in the foam. The parties don't start until 2am, which meant Chris had to drag me a bit because I'm quite sleepy by that time, and in the end the one we went to wasn't actually that sexy because there was no one there. We were just unlucky I think because we picked a night when it was quiet. We still had a good time anyway, dancing and messing about in the foam – which came up to my shoulders actually, so considering I'm 6 foot 3 I think it must be terrifying if you're short. You'd never be able to find your way back out!
I would definitely go again, and I'd go back to the same hotel I think. It was just nice to treat ourselves too; we never go away anywhere, and other people seem to have holidays all the time.
My other news so far this summer is that I passed my maths course and I got a distinction! I wasn't expecting that at all, having bitched on about how the exam wasn't fair and was practically impossible to finish in the time allowed. I was hoping for a grade 2 pass (the one below a distinction), and in fairness I think I probably got a mark in that bracket, but they must have adjusted the grading curve or something to take account of all the complaints they received. I'm very happy anyway, and because I've completed two maths modules now I've been awarded an undergraduate certificate in mathematics. That means, if I really want to, I can put Cert Maths (Open) after my name, which is nice.
Unfortunately I have decided I can't carry on with my maths next year. The next two courses are both 60 credits per year. The last two were 30 credits, and having checked with a tutor I've been told the increased credit value means the courses more than double in workload. I just can't manage that, not when this was meant to be a hobby that I was doing for fun. I'd have to be doing a couple of hours of maths every night, which would seriously eat into my sitting around and drinking cocktails time. It's a bit stupid, I think, that they've weighted the courses like this, because it has created an impasse for me that means I'll be abandoning my Open University studies and they won't get any more money out of me. Silly people. So anyway, I think I'll try to find something else to study. Either a distance learning course with someone else, or a self-study language course or something. I'm not sure yet.
So that's my summer so far. Plus the Olympics of course, which were AMAZING and which I enjoyed far, far more than I ever thought I would. I'm really proud of how well it all went, and how brilliantly our competitors did. It made me want to do some more sporting activities, maybe even something like volleyball, but I expect I'll fade back into my general level of lazy inactivity after a little while and I'll forget to pursue it. The Paralympics start soon, and I'll try to watch a bit of that, but I don't think I'll be as absorbed by it as I was the main Olympics – I've got sport fatigue already from watching nothing else for two weeks.
Anyway, it's sunny out, so I'm off to tan/burn/look at hot boys. Happy Friday all.