I had the most lovely and amazingly posh weekend in the Cotswolds, it really was outstanding.
One of our friend's parents have a second home there, and they said ages ago "Oh you must use it sometime, really you must, that's what it's there for." It took us quite a while to arrange anything, but eventually a group of us settled on going up there last weekend, just for a night, to have a little road trip and get away from work and things for a bit.
I didn't really know much about the place where we were staying; just that it was a private estate (sort of like a gated community) and that there was a swimming pool and spa thing on it for all the estate residents to use. I did see a few pictures of the pool, and thought "oo that looks quite nice", but that was it really.
So it came as quite a surprise when we got there that it was actually THE POSHEST THING I'VE EVER SEEN. Oh my god it was so nice! Her parents must be loaded, as the house was so immaculate I didn't even want to touch anything.
This is the view from the back of the house, where my and Chris' bedroom was: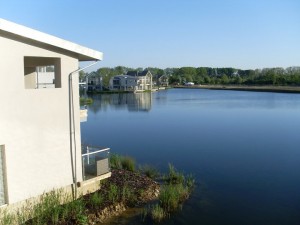 And this is the lovely decked area where we ate: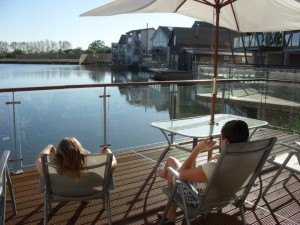 And this is the pool!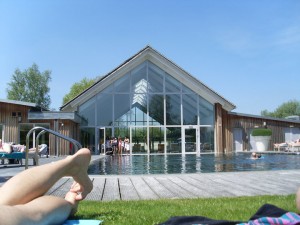 It was honestly LOVELY. The weather was scorching, and it was so beautifully silent there with lakes all around (the whole thing is a nature reserve) and just a few (rich) families pottering about. Most of the houses were empty!
Apparently the house was custom-built, as they all are there. You buy a plot of land and choose a design, and then you modify the design as you want and they build it. There was even a bit within the estate called Millionaire's Row (unofficially anyway) where I'm told Brad Pitt was going to buy a house. THAT'S how posh it was.
It was so nice and swanky there that even the staff seemed posher than us and I kept thinking we'd get thrown out by security for daring to drive our little red, slightly beaten up Ford Ka onto the premises.
We had a lovely time anyway, just sitting around and drinking wine, cooking dinner together, and then lazing in the sunshine by one of the (three) swimming pools. I got a little sunburnt of course, but not too bad considering it's me and an anglepoise lamp is normally enough to give me sunburn.
The three hour drive home in scorching weather on Sunday was a bit of a downer after our nice relaxing weekend, but it was still totally worth it. And the huge upside is we'll probably be allowed to go again sometime! We managed not to spill or break anything (no mean feat given the ineptitude of one of my friends when she's near any containers of liquid), so hopefully the parents in question will be kindly disposed to us sneaking up there again.
If you want to make yourself any more sick with envy, check out the website of the estate: http://www.lowermillestate.com/