Blog every day in May topic – A favorite photo of yourself and why
There are a million photos of me looking variously idiotic on Facebook,  but in the end I went for this one.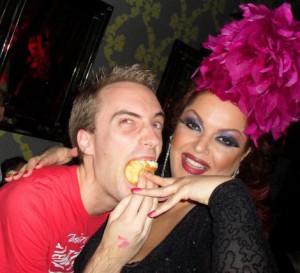 I like this photo a lot for a number of reasons. I think it makes me look fun (how deceptive) and it reminds me of some great nights out I've had over the years. I've been being entertained by Boogaloo Stu and Dolly Rocket (pictured) since 1999, which is an awfully long time, and the club nights they run are always my favourites, so it seemed fitting that my photo should feature at least one of them. Dolly also looks gorgeous in it, providing a nice contrast with my hideous cakeface.