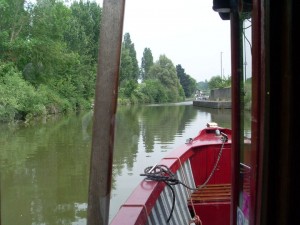 I had another lovely weekend, this time in Bristol for my sister-in-law's 30th. Well, she's Chris' sister-in-law, does that make her mine too? Or just the wife of my brother-in-law? Oh whatever, let's just refer to her as Helen, for that is her name.
She'd wanted to do something a bit special, as she'll presumably only turn 30 once, and so she arranged for a nice boat trip and meal in Bristol for all her friends and relations of cool-age (i.e. not parents, aunts, etc, just the hip young things). Chris and I went up to Trowbridge to their house on Friday night, so that we could all go on to Bristol together on Saturday.
As an aside, my goodness Trowbridge is pikey. I'm always surprised when I go up there, as in my head it's quite countrified and near Bath, so I imagine it must be quite nice. But it's really not, it's full of toothless hags and sunburnt football shirters, and it's certainly not a place you would visit for pleasure if you didn't know people there. It was so pikey in fact that on the train from Trowbridge to Bristol there were pikeys complaining loudly about how pikey other pikeys were, in a vicious how-low-can-you-go cycle of degeneration.
In contrast, Bristol was LOVELY. We've been talking about going for a while but have never got round to it, so this was our first time there. The bit of the city I saw was really nice, and reminded me of Birmingham (modern city centre with waterways) crossed with Bath (west country accents). I think we'll definitely go back for a weekend sometime.
Unfortunately for Helen, our planned group of 25 people was reduced to just 15 by a seriously shocking number of drop-outs, many of them with rather transparently lame excuses. Food poisoning? Really? I don't think so. I'm always surprised by how many people will drop out of big events like a 30th birthday that have obviously taken time and money to arrange, and despite the fact that it'll really hurt the feelings of the person involved. It's just so mean. Of course, they were all very sorry about it, they said. 'They'll be even more sorry when they find out they owe me £46 for their place on the boat', said Helen in a rare display of temper.
Despite the lameitude of Helen's friends, the boat trip was beautiful, and would actually have been a bit squashed with 25 people. We punted along the Avon for an hour in a nice private boat with nice views, and as if this weren't enough the boat had a BAR, so we all got a bit merry on the way.
Then we had a barbecue burger lunch in a riverside pub garden, sang Happy Birthday at an embarrassed Helen, and then punted back along the river to Bristol.
One of the group had rented a penthouse apartment in Bristol to stay in over the weekend, and we ended up all traipsing up there for further drinkage and to enjoy the lovely view of the Bristol sunset (and random hot air balloons).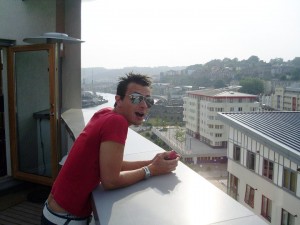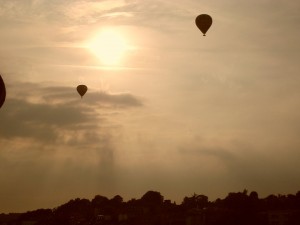 It was really good, and I hope Helen enjoyed herself. I shall definitely have to go back to Bristol at some point for another weekend of fun.