I have received multiple complaints over the last few weeks that I haven't written anything on my blog for ages. Well it's true, I haven't, and the people who have complained are very sweet to notice. I mean seriously, reading my blog really shouldn't be high your priority list, it doesn't contain anything remotely interesting. But thank you for caring, and apologies for my laxity.
The problem with blogging is that if you stop posting for a while, it becomes increasingly difficult to start again. So much time has passed that you can't cover everything you have done since the last post. Equally, you don't want just to pick a recent occurrence and blog about that and overlook the large gap as though nothing were amiss. So you leave it for another day, and another, and suddenly you're no longer a blogger, you're one of the many people who 'had a blog once'.
I also find it much harder because of Twitter. I write so many short snippets about what I'm doing and what I think about things, that I feel I've already said them and don't want to repeat them again in a blog post.
And the final nail in the coffin of my blog is that I have been much, much busier at work since the start of February when I started working two days a week in a different office. My weeks now consist of working on projecty-type things in our main Marketing office, where slacking off is much more difficult as there are constantly people around you, and then madly trying to catch up with my normal job on the other three days of the week before the whole cycle begins again. I'm certainly not as bored as I used to be, but some of the things I used to fill my empty days with have been unfortunately kicked to the wayside.
If you've read this far and still care what I've been up to (even I'm losing interest), key items have been:
I went to see my new nephew Oliver a few weeks after he was born. He was terribly sweet for a baby, and stayed asleep for practically the whole time, earning him double points for Not Being Annoying. I held him for about an hour while he slept, which was lovely, and then gave him to Chris and he cried, ha. The baby, not Chris. This is me holding him.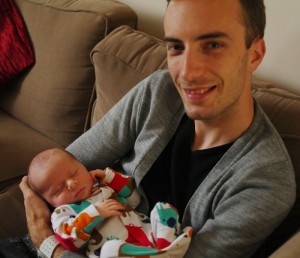 I have finished my maths course. The exam was in the middle of June, and it went OK, but it was much, much harder than I was expecting. The actual maths wasn't too bad, but the amount of time you were given for the number of questions was ridiculous, and I didn't finish the paper which really annoyed me. It seemed fairly incongruous with the past papers all the students had been practising on, where time was tight but it was do-able, and lots of us have been complaining loudly on the module's website that it wasn't a fair paper. One of the tutors in the exam preparation information casually said "The exam tests your ability to solve mathematical problems quickly", and many of us have taken issue with that as a part of the assessment. The learning outcomes of the course did not include being able to do maths at speed, just that we should be able to do the actual maths, and we mostly all could. So it seems unfair that we could have done the questions if we'd had half an hour more time and we didn't get to demonstrate our ability due to the time limit. I'll have to wait until August for my result, and although I know I must have passed, I'm now hoping just for an OK grade rather than a good one. Bit annoying.On the subject of maths, I am currently doubtful that I'll be carrying on with the course next year. The next module entails double the workload of this year's module, and I really can't see how I'd find time for that, especially now I'm busier in the day and more tired at night.  It also costs twice as much, at a hefty £800 for some self-study materials they have reprinted a hundred times, so it doesn't feel like very good value. I haven't decided yet. Either way, I should get an Undergraduate Certificate in Mathematics for the modules I've completed so far, as I've got enough credits now, so at least that's something.
I've been baking a bit and have made a lovely carrot cake a couple of times. They were massive and delicious, behold.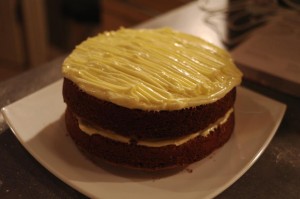 Um… I think that's it.
We've booked to go to Sitges in a couple of weeks, and I'm hoping the weather stays as nice there as it is at the moment.
And my Mum is coming to stay in the flat above us again in September, blargh. It'll be OK, but it was quite stressy last time.
I'll blog again at some point…