My most embarrassing moment (or at least one of them) happened a few years ago. Just thinking about it now still gives me a sick feeling in my stomach actually.
We have a friend called Zac who Chris used to work with. He lives in New Zealand now so we don't see him much any more, but we used to go to the pub with him and his girlfriend and some other friends quite a lot. I used to have something of a crush on Zac. He's attractive and very charismatic, quite flirtatious, and I didn't let the fact that he's straight and unattainable put me off – that just made it more exciting.
One day a group of us played cricket in Brunswick Square and then went for some drinks afterwards. Chris and I had been clubbing a few nights before, and I was telling people how they'd had a face painter lady there who painted little motifs on our faces for us. I'd been particularly impressed with Sarah's, and happened to have taken a photo of it on my phone, so while I was describing it I passed my phone around.
This is Sarah with her fairy motif thing on her face: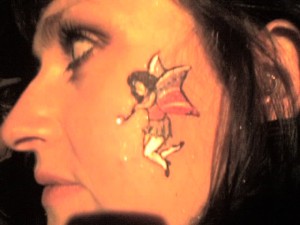 The phone reached our friend Rob (also straight and a friend of Zac's), who said "Oh yeah, that's nice."
And then he did something which you should never, ever do on a person's phone. He swiped to the next picture. And got this.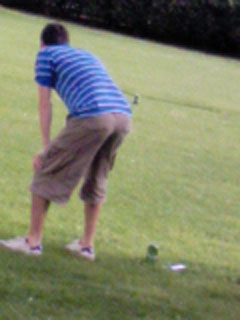 "Oh!" he said. "And a rather nice pic of Zac's arse." Which he then passed to Zac.
SHIIIIIIIIIIIIIIIIIT.
You do not swipe on another person's phone! You do not! You might find anything!
It all went very quiet.
Zac had been bending over during the cricket, looking particularly pert, and Chris had taken a photo on his phone and sent it to me to amuse me. It was just a bit of fun, you know, I wasn't going to crack one off over it or anything.
"I er…. I didn't take that picture…" I stammered.
Chris shot me a look of death which I later found out meant DON'T TELL THEM THAT, THEY'LL KNOW THAT MEANS I TOOK IT, AND I HAVE TO WORK WITH THESE PEOPLE, FALL UPON YOUR SWORD, IT DOESN'T MATTER IF THEY THINK YOU'RE A PERVERT.
I didn't manage to infer that from the glare, so I just faltered a little bit more and snatched my phone back.
Zac laughed and changed the subject, and the women in the group exchanged a few 'Is this… OK? Is this normal behaviour?' glances. I just kept my head down until we went home, but I was absolutely MORTIFIED and decided they must think I'm some sort of sex offender. If you switch the situation round so one of the men in the group had taken a picture of a different guy's girlfriend bending over, it would be really bad, wouldn't it? That wouldn't be an OK thing to do? But it's different with boys and gay guys I think – it's not threatening to them, especially if they flirt and like the attention. Zac could beat me up if he wanted, so he's not going to be that bothered by me thinking he's fit – it's only really likely to make him feel attractive. Isn't it? (Actually I'd quite like him to beat me up, that would be hot. Wait, unread that, I'm making myself sound worse.)
With the benefit of hindsight and a few years' distance, I realise that I could have handled the situation a lot better. I could, of course, not have had a picture of Zac bending over on my phone, but let's be realistic, that was inevitable. No, what I should have done was brazen it out and said something like "Yeah, well look at him bending over in those shorts like a slut, he was screaming for it," and acted like I wasn't bothered and changed the subject. By being visibly horrified I made it much worse and drew attention to how embarrassing it was.
I've still got the photo, as you can see, so I obviously wasn't bothered enough to delete it (I'm not giving up gold like that), but I can't think about that day without wanting to pull my jumper up over my head and never speak to anyone ever again.