Blog every day in May topic – Publicly profess your love and devotion for one of your [blogger] friends
I'm not going to write this about a blogger friend because if they're a blogger it means they'd read this, and I think it would be a bit weird if I'm all like 'URRRR I LOVE YOU' and they're like 'Urkh, this is exhausting, you know? We are never getting back together. Like ever.'
So I'm going to write about a real friend instead, because she won't read this and then it won't be weird.
I love and am devoted to my friend Sarah. She's just lovely, and beautiful, and leggy, and bold, and vulnerable, and a mess, and amazing. We have great nights out with Sarah and she's so much fun.
This is Sarah: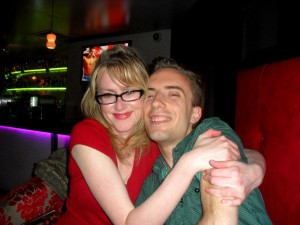 Part of what makes Sarah fun is once she's had a couple of glasses of wine she'll do pretty much anything we tell her to, including getting in a bin: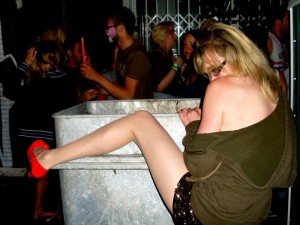 And posing with a strangely abandoned walking aid:
We met Sarah in quite random circumstances, and the universe obviously just decided that we should be brought together. We were at Worthing train station on the way home from an evening out with some friends one night (why did we go out in Worthing? God knows) and we were talking loudly and drunkenly about the relative merits of flaky versus puff pastry (an important debate). A girl on her own a little way down the platform started laughing at us, and Chris shouted 'We can hear you laughing at our pastry conversation!' at her. We got talking to her on the train back to Brighton and exchanged numbers, and she was duly assigned the name of Sarah Train, as that is where we had met her.
A couple of weeks later we arranged a night out with one of my friends from work and his housemates, and Chris texted Sarah Train to see if she wanted to come. It turned out that she did and she said she'd meet us at the bar where we were meeting my work friend. When we got there, my friend said 'Let me introduce you to my housemate: this is Sarah," and IT WAS SARAH TRAIN. Our arrangement to meet two groups of people was actually an arrangement to meet one group but in a sort of pincer movement.
So we decided from that point that it was meant to be, and we've been friends ever since.
I love Sarah. I love that she's scatty and she loses everything – she's no longer allowed to carry possessions when we're out, she has to give them all to me and then ask me for money when she goes to the bar. I love that you can be anywhere with her and still be laughing the whole time.