A while ago I wrote excitedly about the fact that Chris' brother and sister-in-law were going to have a baby, due sometime in May.
What month is it? May. What am I? AN UNCLE! Woo! Yay me, on doing absolutely nothing and being related by marriage to a child that has been born. I think I deserve quite a pat on the back.
The baby, Oliver, was born on Friday, only a tiny bit early (a week), and a decent 6lb 4oz. Mother and baby are doing well and they were allowed to go home on Saturday, which I assume means they are both fine healthwise and there was nothing the hospital was worried about.
I'm really pleased, and particularly relieved because his parents had been a bit anxious during the pregnancy and hadn't wanted to assume everything was going to be alright just in case it wasn't. They needn't have worried, because compared to lots of people I know it seems to have gone without a hitch, and Helen seemed quite hale and hearty throughout.
I won't get to see the baby for a couple of weeks, because as I mentioned before they live a few hours away in Wiltshire. Chris' Mum and Dad are going this week, and we'll hopefully go during half term at the start of June. Although that's a little bit longer to wait than I'd have liked, it will at least give me time to shop for awesome outfits for him, such as this which I just found on a website: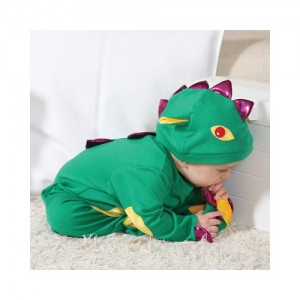 He's going to be the best dressed baby there ever was. I can totally see myself spending a lot of money on this boy during his life.
My Mum was pleased to hear all the baby news, but naturally had a bit of a wail about her never having grandchildren of her own. Not surprising at all – most things seem to relate back to her. My brother has apparently talked a little bit again about when he might have children, but it's still a far-off 'some day' kind of proposal, so it sounds like she's going to have to wait for a bit longer before she gets any, if at all. But at least I've got my first nephew now, whichever side of the family he's on, and that's all I really care about anyway!