I have had another rubbish month for blogging, to the point where I have actually received complaints about it. Who actually wants to read this stuff?? Well apparently you do, so you've brought it on yourself and I have no sympathy.
I have been crap at writing on here because I'm insanely busy with work, and trying to do my normal job in three days a week plus a new job in the other two days is seemingly a bit ambitious. I've managed to get back on top of things this week, but it is hard going. I've also had quite a lot happening at home, so there has just been no time for anything, and blogging got pushed out.
My main news from the last month is that we (well, Chris) have bought a new car! This is him, and his name is Thunderbolt: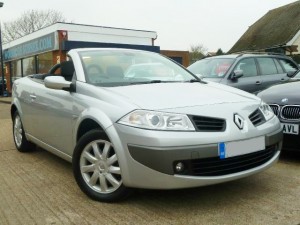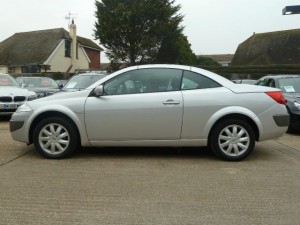 Chris has wanted a convertible for aaages, and he's earning pretty well now so he decided just to buy one. Our old car (dear old Columbo, who I'm going to miss terribly) was on his way out a bit, so we knew he needed replacing soon, and in a bit of a whirlwind of activity Chris found Thunderbolt online, we saw him the next day, and test drove and then bought him the day after that.
It all seemed to happen REALLY fast, and even though he's second hand and wasn't all that much money, and Chris was paying out of his savings so it wasn't even my money, I found that the whole process made me insanely anxious and stressed. I was worried we'd get ripped off, that the car would have a major fault, that the garage wouldn't do the work they'd promised to do on it before we picked it up, that it wouldn't be ready on the day we were supposed to pick it up, that they wouldn't take Columbo in part exchange once they had a closer look at him, ALL sorts of things. I don't really know what's happened to me in the last few years, but I have completely lost the ability to cope with change and my anxiety levels have gone through the roof. Buying a house, starting this new job, and buying a car have all been a nightmare, and I've worried myself to the point of feeling sick all the time. I really don't want to be that person (effectively my Mum but not so haughty) and I need to find a way of nipping it in the bud now while I hopefully still can. I'm not sure what to do about it though. I've got a book on anxiety at home somewhere that I need to try to dig out, and there are various types of therapy I could try. When I'm in between big stressful events though I don't feel especially anxious about things, so I end up not doing anything about it, and then something else big happens and I wish I had. Hmm.
Anyway, that was an interesting (boring) diversion about my anxiety issues. Thunderbolt seems fine so far, touch wood, and we've had him nearly a week. The weather has unfortunately not been nice enough to have the roof down, but he is very big and comfy and Chris seems to enjoy driving him. I always refer to our cars as him, by the way. I hope everything stays fine and his big end doesn't go after a fortnight or anything. What the hell is a big end anyway, and where does it go? Can't they just fix them in place more securely? I might have to look into that.
Other than that I have just been drinking too much, not getting enough sleep (while drinking), and thinking I really must cut down on my drinking. I don't get wasted all the time or anything, but I had started to drink out of habit in the evenings a couple of weeks ago. It was just a cocktail or a glass of wine, so not loads, but it wasn't very good. So now I'm cutting down a bit and only drinking when I'm actually socialising or for a treat.
Mum is hmmm OK, not great. That's about as good as it gets with her. Their gypsy curse this week has included: the downstairs phone breaking; the battery going on her car so it wouldn't start and she had to get the AA out; a blind falling off the wall when she pulled it; and my Dad fainting for no reason and banging his head on the dining table. So pretty much par for the course with them really. Dad has been to the doctors already and been told he has low blood pressure, and now he's having some tests done. I'm not too worried about him as yet, but I'm glad he is getting checked out.
It's just bizarre that they have so many stupid things happen to them though, it's non-stop. He's still waiting to hear from the police about his accident thing that he lost his job over and that he might get prosecuted for. If I wrote down all the unfortunate things that have happened to them over the last year I think it would make me want to shoot myself (or them, as an act of kindness). But it does at least make me realise, anxiety issues or not, I have a comparatively good and easy life and so I should be grateful.