I seem to have had a really busy month, and although it only feels like 1 February was yesterday, suddenly the month is almost over. I haven't blogged for two weeks (fail), so I'll have to try to catch up with one of my summary posts and then get back on the wagon from next week.
I have started the new bit of my job, working two days a week in the central web team to try to give me a bit more variety and to have some harder work to do. I've done four days with them so far, and it's been fine. I don't love it yet, but I'm never that good at change (see the blog posts when we moved house), and I'm hoping I'll settle in more as time goes on.
I've been working on making a mobile version of part of our website, which is quite an interesting project and is stretching me a bit as I have never coded for mobile devices before. So that's a good thing, but at the same time it has meant working for four days on a single thing without really talking to anyone else, just staring at the same three files of code. I've found that a bit dry and it's hard to focus by the end of each day. But once I get given a few more things to do I'll hopefully be able to switch between projects a bit so it'll be more varied.
I've also had the last week off work as it has been Chris' half term. I very rarely have a full week off in one go, so it's been nice to have a good long rest. We've done a few good jobs around the flat too, so although we didn't go on a trip anywhere like we'd hoped I don't feel like we've wasted the week.
We had our dangerous old gas fire removed, and have cleaned out the fireplace and made a nice feature of it with candles and pebbles.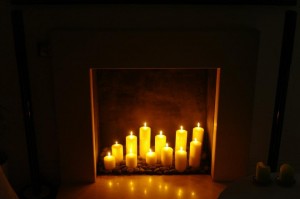 Just getting the fire removed ended up being a bit of trial. We hired a proper Gas Safe engineer to do it, from a gas fire installation company, so we thought fine he'll know what he's doing and it'll be all safe and hunky dory. He did seem to too, until the last stage where he cut a live electric cable with his clippers. There was a MASSIVE blue flash and a bang, and all the electrics in the building went off. He was fine, fortunately, because he was using appropriate clippers for working with electricity that had rubber handles. Otherwise I'm sure he would have killed himself. I don't know why he didn't realise the cable was live, he "thought he'd disconnected it", and obviously he wouldn't have cut it and risked his life if he'd been unsure. But he still got it totally wrong, it took us ages to get the electricity back on (a breaker upstairs had kicked in and we had to find it and switch it back on), and it felt like this was exactly the kind of thing we'd hired a professional to avoid.
But anyway, it's done now and the fire is gone and we're happy with our pretty candles. We were going to buy a new gas fire, but it was just too expensive and too much of a faff with listed building consent and getting the flue swept all the way to the top. So we did this instead and saved about £800, which is pretty good.
The other exciting thing we've done this week is buy a piano. I've wanted a piano for years and years, but I only ever had a keyboard as a child, and then I never had the money or anywhere to put one after I left home. I used to have piano lessons before I went to university, but then I stopped when I moved away and I've only played very occasionally over the last 13 years. I can still remember the pieces I knew a bit, and I've still got the sheet music, so I've started relearning them. I'm currently working on Michael Nyman's The Heart Asks Pleasure First, the theme from the film The Piano, which is really hard but I've always loved it.
The piano is a nice digital one, not a very fancy or expensive one, but it looks really swish and the keys feel nice. We've had to put it in the hall because it didn't really fit anywhere else, which is a bit of a shame as it's a funny place for it, and it looks a bit out of place there. But I'm prepared to live with that for the sake of having a piano, and if we rearrange the furniture in our living room at some point we might be able to squidge it in somewhere. Chris paid for most of it as a treat, so I need to make sure I play it lots and look suitably grateful. And if he's good I might let him have a go on it once in a while.
I'm back to work tomorrow, and I'm sure it'll be a bit of a pain trying to catch up on a week's work when I've only got three days a week in the office now. But busy is good I suppose and at least I won't have time to be bored! Roll on March, because then it will be spring and this freezing cold weather can fuck off.