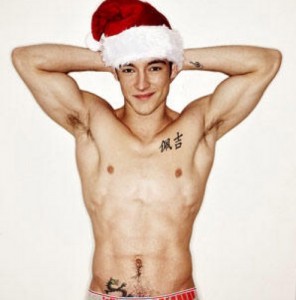 We're off back up to Essex and London tomorrow to spend Christmas with our mummies and daddies. As always it's going to be a bit of a whirlwind of rushing about to see all sorts of different people, which is a bit of a shame because it ends up being more about 'seeing' as many people as possible, instead of actually enjoying  it. I'll have to look at Austin Drage in a santa hat for a while to console myself.
The same as last year, I'll be spending Christmas day up at Chris' Mum's house and my parents are going to come for lunch for a few hours. It seemed to work pretty well last year and it meant that Mum and Dad had more of a proper Christmas than they would if they just sat at home. It also means that I won't have to travel on Christmas Day (the only day between now and Wednesday that I won't be driving anywhere), and once Mum and Dad go home I'll be able to relax properly! I did find it a bit stressful having them there last year, because Mum has the potential to be so difficult, but it turned out fine that time and they were just grateful to be invited somewhere. They don't actually have any friends, which is a bit weird really!
Then on Boxing Day I'll be seeing my horrible grandad for lunch, which I'll hate, and I'll have to remember to take my wedding ring off and dodge any questions about my home life. It's such a chore. I'm sure he'll also mention that he only sees me once a year on Boxing Day now, but, well… there's a reason, and it's because he's not a very nice man.
For the first Christmas in my life I won't be seeing my brother at all as he has gone away on holiday. Lucky him – I'm quite jealous that he doesn't have to bother with all the enforced family engagements.
Other than that I'll just be trolling up and down between Chris' Mum's and my Mum's houses, seeing friends in the evening, and stuffing my fat face with Christmas food. It could be worse really, I shouldn't grumble!
Then we're back to Brighton next week for New Year and some much needed peace and quiet.
Ryan Phillippe wishes you all a very merry and partially-clad Christmas: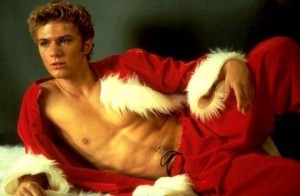 UPDATE TO THIS POST: Dad has been suspended from his job for gross misconduct. Hmmmm, so this is going to be a fab Christmas of frosty atmospheres and snippy passive aggressive comments from Mum, isn't it?? Jesus Christ… I might just rock up drunk and try to stay pissed all the way through until Tuesday. I can't see how else I'm going to get through it. God I love my parents' gypsy curse, it makes my time at home feel so MAGICAL.