OK, so after my ranting my weekend was actually not too bad. We managed to do some nice things, and even though it was quite different with Chris' Mum and Nan there (and annoying at times), we did still have fun.
We had the first 24 hours just with my brother- and sister-in-law (does she count as a sister-in-law to me? His wife anyway), so that was nice and relaxed and we did some fun things. We played crazy golf on the seafront, which I always enjoy rather too much and a lot more than I'm expecting to, and I had an amazing meal in a restaurant round the corner from here. If you're local and you haven't tried it before, you really should go to Twenty Four St Georges Restaurant in Kemp Town. I've been there a few times now and it's just lovely; this time I gorged myself on squash risotto and the most delicious plaice with mushroom ravioli. Just gorgeous.
Then we had a very hurried trek about on top of windy Devil's Dyke the next morning, before hurrying back into town to meet our older visitors. And then everything started to move veeeeeerrrry sloooooooowwwwwwly. I love them to bits, but my GOD how long can it take to walk from Churchill Square to the pier? 40 minutes?? Really?! It's just bonkers. You can fly to Paris in 40 minutes.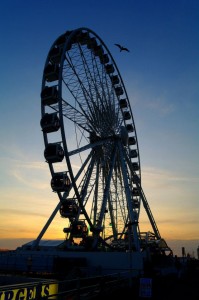 The absolute best part of the weekend though was when all six of us went on the newly opened Brighton Wheel. It's kind of like the London Eye but a lot smaller, and they've just thrown it up next to the pier. They weren't entirely sure when it was going to open – I think they were waiting for some final permission or something – but then suddenly it was open and going round and round with people on it on Saturday so we thought we'd give it a go. And it was great!
You don't have to book, it's not busy enough for that yet, so you just stroll straight up and pay your money and get on. It has about 20 or 30 pods big enough for six adults, so we had one all to ourselves, and I think we happened to go at one of the best times because the sun was just starting to set. You get nice views of the two piers and down the coast in either direction, and a bit of a view of the town, but that's not so interesting to look at. We went round four times over about 15 minutes and got some lovely photos, and I really, really enjoyed it. I know some people don't approve of the Wheel much and think it is a bit of an eyesore, but I really liked it.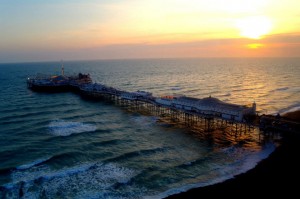 Since the weekend I've unfortunately had a cold, after having a glorious few months free of illness. So I'm stuffed up and fed up at home right now, watching rubbish television with a blanket on my legs (I actually am – it's green and gloriously soft). I'm also brooding a bit about my career, or lack of, and wondering what to do about it. I need a new job I think, because I'm so horribly unfulfilled right now, but I just can't think what or how to make a leap and do something else. I watched The Social Network last night and realised that Mark Zuckerberg has all the money in the world AND is three years younger than me, and it made me quite sad about not having achieved very much. I could have been anything, could have done anything! But I ended up with so many options that I basically did nothing and suddenly I'm 30.
So hmmm to that. I'll have to give it some more thought, and then probably do nothing a bit more, and whinge about it periodically. So look forward to that, won't you? It'll be marvellous.