I had a fun couple of nights staying up at a friend's caravan in Essex last weekend. Her family owns a plot of land on the edge of one of the only private rivers in England (as she kept reminding us), on which they keep several caravans and have built a little bungalow thing. Here it is: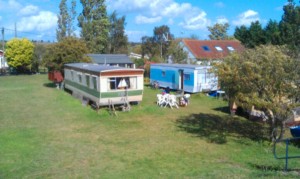 I've been up there before, but I was quite a bit younger then (terrifyingly I was 12 years younger…) and we've never got round to using it again.
I have to say that I was a little bit uncertain about going, simply because I'm the kind of person who likes his comforts and I suspected that a caravan in September might not be overflowing on the comfort scales. I was reassured that it would be fine though, and that the weather would "probably turn out alright" (which it did really), and so off we went.
We were given a choice of accommodation on arrival, given the high caravan-to-people ratio, including our friend's starting offer of this: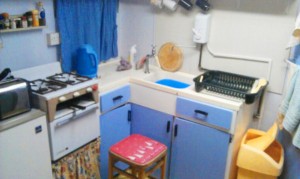 Yes that is a kitchen, and yes that is where we would have slept. I couldn't fit it all into the picture, but it was basically a one-room caravan with a pull-down bed thing next to that fridge. I graciously (sort of) declined to sleep there, and managed to haggle our way up to a room in the trailer in the middle of the plot in the first picture above. That was much better, because it was an actual bedroom and there wasn't a cooker or a bicycle in it.
It was, however, ridiculously 70s, which I quite enjoyed as it kind of set the tone for the whole weekend.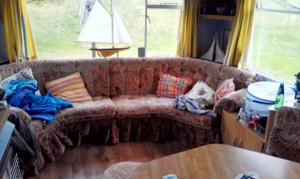 It was lots of fun anyway, even if there wasn't any hot water and it rained a couple of times.
We went canoeing:
and we played rounders, and we had rather too much fun playing Ludo: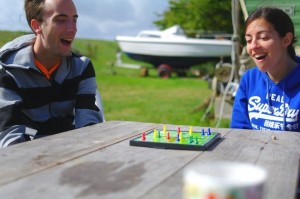 That photo isn't posed by the way, that's genuine excitement and shock on our faces at whatever had just happened to the little coloured men on the board.
One of the highlights for me was playing the After Eights Game, where you have to get an After Eight from your forehead to your mouth without using your hands. I always enjoy that game because I EXCEL at it due to my bizarre rubber face that seems to have been designed specifically for manoeuvring After Eight mints.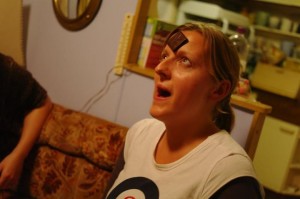 I also got dared during a drinking game to roll down the hill outside in only my pants, which as much to my surprise as everyone else's I agreed to do.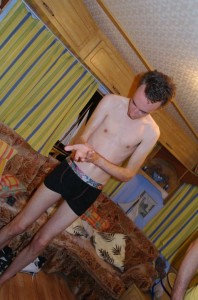 "It'll be fine", I thought, "It's private land, so there will be nothing nasty on the grass. I'll just roll down it, get a bit wet from the dew, and everyone will laugh at how outgoing I am."
So what did I do? I rolled in dog shit.
Yes, somehow, wherever you are and no matter whether any dogs have ever actually been there, if you roll down a grassy hill you are guaranteed to roll in dog shit. And I did. But it was only a bit, and it seemed to amuse my friends rather a lot, so I suppose it's OK.
All in all it was a fun, boozy, outdoorsy weekend of giggling and being childish and cooking on an absurdly small stove. I'd certainly go again sometime. Maybe in another 12 years. But I might not roll down any hills.