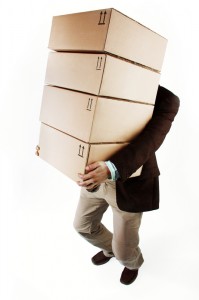 We're moooooooooooooooooooooooooving! We exchanged contracts yesterday afternoon and now we are absolutely definitely moving and it can't fall through. Or rather it can fall through but it would cost so much money in penalties that it's not very likely.
So hooray! Now I can actually allow myself to think about the new place without having to add on little caveats in my head all the time like "as long as it doesn't fall through", "if all goes well", "assuming we do buy it" etc etc.
And mostly I am thinking fuuuuuuuuuuuuck I hope it's all alright! I hope the flat is still nice when we see it again, and I hope there aren't any huge problems with it that we and the surveyor somehow missed, and I really really hope it's not a noisy place to live. They've said quite categorically "we never hear the neighbours", but I know you can't really trust a seller to tell you the whole story. If we get there and it's really noisy I'm going to be devastated though…
But anyway, I always assume the worst case scenario will be true, and I need to stop it. As everyone keeps saying to me, I'm sure it will be FINE. And it'll be our own place, and there will be no landlord, and we can make it nice, and we'll be proper grown ups.
We're completing on 13 July, and we're going to move our stuff on the 14th. So in less than three weeks we should be living there. It feels weird to think that we'll be living somewhere else; we've been in our rented flat for almost eight years, ever since we moved out of our final student house in 2003. In lots of ways I don't like the flat any more – it's quite noisy, it's not very big, and it needs redecorating – but it has also been my home for a very long time. The only place I have lived in for longer is my childhood home where we stayed until I was 13. Even the house my parents live in now I was only at for five years.
We never intended to stay put for eight years like this; it just happened, due to convenience and house prices and things. So this will be the start of a whole new chapter for us. I hope it's a good one.
We'll be buying lots of new furniture, because again we've had half our stuff for eight years or more, the other half belongs to our landlord, and the stuff we bought was really rather cheap. Can you believe we got our sofabed from Ikea for £35? We're thrifty, we are.
That should be quite nice though, because everything will be new, and I'm hoping it will make the flat look all swish. I want people to walk in and say "Wow it's lovely, I wish my place was this nice". That's what I want, the jealousy of my friends. It's all I live for.
I'm freaking out a bit about the amount of work to do before and during the move, sorting out all our changes of addresses and utilities and whatnot, but I expect we'll get there in the end. Other people manage it, and lots of people are quite thick, so it can't be that hard.
It's exciting anyway, and it's nice to know it's definitely happening. People have been asking if we're having a house warming party, and my answer is no. NO ONE TOUCHES ANYTHING IN THE NEW FLAT. That will be the rule. I want to keep it nice, after all.