I had a really nice, if extremely busy, weekend that was split between two different birthdays up in Birmingham and down in Brighton. It was lots of travelling and I was completely knackered by Sunday night, but we managed to pack loads of fun things into three days.
We drove up to Birmingham on Friday and spent two nights staying in a hotel up there. I've been to Birmingham a couple of times before, but I'd hardly seen any of it because they were both for specific events that we didn't really leave. So we decided to go up a day early this time and stay in a hotel so we could do our own thing, and so we could have a bit of a gay night out on Friday before the birthday bash on Saturday.
Birmingham seems to have a really good gay scene with loads of venues and stuff going on. I've been to the Nightingale before and thought it was one of the best clubs I've been to (I was swayed by it having a DINER inside it, and I always like clubs with lots of floors). We didn't go there this time, but we met up with some friends and did quite a bit of bar hopping, including the Angel, the Loft Lounge, the Village Inn and Eden, and they all seemed pretty good.
Often when we've been up to other cities I've been quite disappointed by the paucity of the gay scene, with only one or two venues to choose from and not that many people in them. That's because we're spoilt living in Brighton though, where there's an unusually busy scene, so it's a bit unfair to compare them really. Birmingham seems just as good as Brighton though, with a few clubs and lots of bars, and I'd happily go up there for a night out again.
The shopping was also really good, and easily better than Brighton due to the massive Bullring shopping centre. It seemed to have absolutely everything in or around it. And we had some really nice meals out, so overall it was a great place for a trip away. It's not the prettiest of cities – it's a bit industrial in places, and some of it looks really run down – so somewhere like Bristol is much nicer visually. But it is big and bustly and I really enjoyed it. I also quite like that I'm slowly managing to see more of the UK; a few years ago I'd hardly been anywhere outside of the south east.
I didn't enjoy quite so much having to drag myself out of bed at 8am on Sunday with a bit of a hangover and hit the road again to get us back down to Brighton for the second birthday. We made it though, and were in time for the seafront lunch and boat trip that our friend had arranged.
Those we both lovely summery things to do, and you'd have thought you'd be fairly safe booking them for a birthday in June. Alas not, as it decided to rain pretty much continuously throughout the whole day, which really put a crimp on it all. I felt very sorry for my friend whose 30th birthday ended up being so wet. It was fine though, still good fun, and the boat trip was amusing in the wet and certainly memorable. It just wasn't really what she'd hoped for – a lovely sailing trip in the sunshine with champagne and sunglasses and all those sorts of thing. So thanks for that, British weather.
This is an arty pic of me trying to enjoy the Volks Railway in the rain: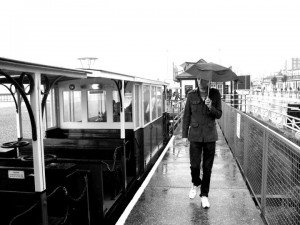 I've got a really busy June with stuff booked in for practically every weekend, so I know I'll probably be really tired by the end of it all. It's all fun things though, so I shouldn't complain. And at some point we'll hopefully get a moving date – that might be more likely to be July now – and then I can start planning all the stuff for that!
Busy busy busy. It's really not natural for someone as dull as me.