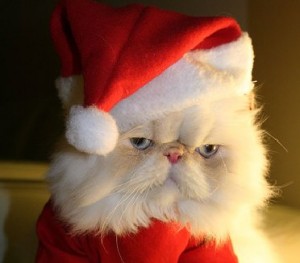 As part of my 'blogging once a week' endeavour, check out my flying start with two posts in one day! It'll never last.
Anyway, I had quite a nice Christmas and New Year all in all.
First of all, I was ill from about five days before Christmas until Christmas day. OK, so that bit wasn't so nice really, and I was furious with the friend who I know gave me the cold. I mean, who comes round to a person's house with a fever and then sits on their sofa spluttering and sneezing for two hours just before Christmas? Who would do that? Who?? My friend, obviously.
But the illness did mean I had an extra four days off in total, so I had a full two weeks away from work which was LOVELY.
I spent quite a bit of Christmas up at Chris' Mum's house, and for the first time ever my parents came up there on Christmas Day. It was really kind of Chris' Mum to invite them, as normally I either don't see them on Christmas Day or I have to drive down there in the afternoon or evening and miss out on the copious amounts of wine that's always at Chris' house. Mum doesn't really like Christmas much anyway (she's such a jolly person), so they don't even do anything when it's just the two of them on their own, and then she wails that their day was boring (i.e. I should have come and entertained them).
But this year they were graciously invited to have lunch at Chris' house, which made my life quite a bit easier and was actually really nice. It was a bit touch and go whether they would come or not, as Mum hasn't had a good month and has generally been feeling pretty rubbish. Even on Christmas Day morning she still wasn't sure, but then lo and behold they arrived at the allotted time and all was good.
It was a little bit stressy for me having them there, as Mum can be fairly demanding (really, who'd have guessed?), but it's quite nice and relaxed at Chris' house, and they only actually stayed for about three hours or so.
Boxing Day was dire, as usual, as it involved my annual torture trip to have lunch with my Horrible Grandad. He can barely walk now and is no less cantankerous than he was before. Mum didn't come to that at least, which reduced the stress a little, but I still couldn't get out of there quick enough.
"I only see you at Christmas now," said Horrible Grandad pointedly as we left the restaurant. He always gets his digs in at some point during the occasion.
"Yes, there's a reason," I thought as I muttered a goodbye and scarpered back to the car I share with my male life partner he knows nothing about and will never meet.
So that was Christmas anyway. We spent New Year down here as we normally do, and this year ended up going to a masked ball, which was quite fun. It's any excuse to dress up with us really, as you can see.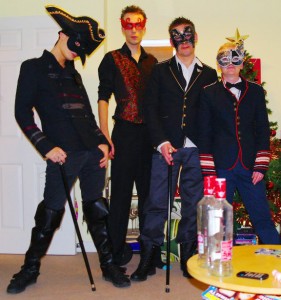 And then there was barely time to watch half a dozen films, eat two boxes of chocolates and a packet of biscuits and take the Christmas tree down before we were back at work. Trudging along in the pitch black and freezing rain at 7.30am this morning was not pleasant, but at least the office is dead today and I have the chance to catch up on my blog.
Things I need to do during the first half of this year are:
start going to the gym once or twice a week, seeing as I've paid for it already and have barely used it.
find a lovely flat, buy it and move into it.
sort out some kind of celebration for my 30th birthday which is in four short months' time.
turn 30 in a blaze of vodka.
Let's see how many of those I achieve shall we? The last one is the most certain as I only need to remain alive to achieve that bit. So if I sit very still and do nothing for the next four months I'll at least have one thing I can cross off my to do list.