I haven't been blogging much lately partly because I've had a cold for three weeks that simply will not fuck off, and partly because I'm just a rubbish blogger. I've actually been doing a fair few things though, so I shall try to catch up on them now.
Flat hunting
We are still looking officially, but it has slowed way way down in the last week. After the flat I talked about before that we made an offer for, we upped our offer a bit but he still wanted more money and so we had to walk away. He actually seems to be a completely unrealistic seller, and he has since raised the asking price again have previously dropped it by £20K, so I really don't know what he thinks he's doing. It won't sell at that price, he's just wasting everyone's time.
We found a second flat in a posh listed building further into Kemptown, and again we put in a couple of offers, but they wanted more than we could afford to pay and we didn't get it. And other than that there has been virtually nothing coming onto the market that we're interested in. It's not the best time of year to be looking at all, so I think we're going to end up waiting until after Christmas when lots more stuff will come up for sale and we'll have a bit more choice. And actually our flat isn't too bad at the moment – it's freezing cold in the winter due to the lack of double glazing and central heating, but the current neighbours are quite good and living there hasn't been too annoying.
Halloween
We had another little dressing up outing for Halloween, which was quite successful. I was Frankenstein's Monster, Chris was Mumm-Ra The Ever Living, and our friend Sarah was a demonic china dolly: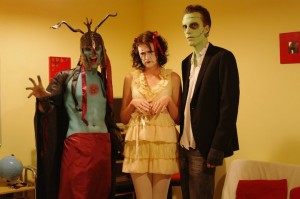 The house party we went to was quite good, but from what I gather we left at the right time because it all turned a bit ugly towards the end of the night. 30 people the hosts didn't really know turned up, then basically refused to leave, did loads of coke in the bathroom, and one of the hosts nearly got involved in a punch up with one of them. The neighbours started complaining about the noise, and it was all rather stressful and annoying for them.
We did try to go clubbing after the party, but failed miserably due to the amount of gin we'd already drunk. We staggered from the party to Legends, got as far as ordering and  paying for some drinks at the bar, and then Chris pretty much passed out on his feet. The barmaid, handing me my change, noticed and said "Erm, he needs to go home right now", so we had to abandon our untouched drinks on the bar and escort him from the building.
He managed to do that thing drunks do where they suddenly perk up and move at high speed (I think he thought he might be sick), and to my horror he charged into the revolving door unaccompanied. I was afraid he'd get his cape caught, or simply pass out inside it, but after looking slightly confused for a moment he emerged from the other side successfully and the three of us tottered home.
Chris didn't last beyond getting home, obviously, and promptly passed out on the bed still in full blue body paint. In the meantime Sarah had passed out on the sofa, so all I could do really was put a blanket over her, wash off my green face, and pass out myself. Needless to say our sheets were rather blue in the morning with a distinctly Mumm-Ra-like shape all over one half of them. Chris woke optimistically hoping that we might have bathed him before putting him to bed, and was disappointed that we hadn't.
We had fun anyway, and I think I've got the various body and face paints out of most of my furnishings now.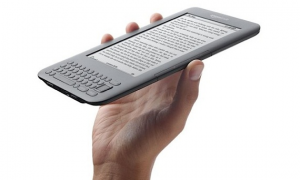 And that's been my last couple of weeks really. Oo yes, my other exciting thing is I've bought myself a Kindle, which arrived yesterday. It was meant to be something I got for Christmas, but I couldn't be bothered to wait so I've just treated myself to it. I really like it so far – it's ever so thin, and reading on it is really easy. There are LOADS of free classics you can get for it, so I'm not actually planning on paying for any books on it for a while yet, and it will let me read lots of things I've always wanted to read but without hard copies of them cluttering up my house.
It was a bit extravagant just to buy it for myself, but whatever. As Cheryl would say, Ahm worrth et.