I had a very nice, if exhausting, Brighton Pride weekend this year and ended up doing LOADS of stuff. I'm always a bit funny about the run up to Pride, not because I don't enjoy it but because some people seem to get really REALLY over-excited about it, like it's the highlight of their year or something. It's not the highlight of my year, but I still like it, and this year's was particularly good.
We started on Friday night by going out for 'a few drinks', as we thought the bars would be quite busy already with early arrivals for the weekend. We were correct, because everywhere was RAMMED, and quite a few of the bars had decided they could get away with charging for entry. I found this quite annoying, because some of the bars really aren't that good, and they're normally free all day every day for the rest of the year, including their separate club area (yes, I'm looking at you, Legends). So suddenly to say it's £5 to get in I think is a bit absurd, and we just scoffed at it and went elsewhere.
Our few drinks ended up being several drinks, and took us to the Amsterdam, the Star Inn, the Hub and Vavoom, all of which were inordinately full but were free and had nice party atmospheres.
I shouldn't really have had that much to drink because I woke up hungover on Saturday morning, which was a bit annoying, but I was still able to drag myself out to the main road in time for the parade.
The parade was frankly rather disappointing though, and has been for the last few years. The theme was a weird one, 'Pride and (No) Prejudice', and it didn't leave people much room for dressing up. Yes you can be Mr Darcy and/or one of the Bennett sisters, but that's about it. And the same as last year, the parade consisted almost entirely of trade unions, political parties, and a couple of banks. So none of the floats were that much fun, and none of them featured gratuitously stunning and semi-clad boys.
It did at least stay dry this year, and we trekked on up to the park for a while like we always do. Normally we only stay for a couple of hours, but this year we were having a bit more fun and stayed up there until after 4. It was absolutely PACKED, to the point of being a bit annoying really, as you couldn't actually walk anywhere – you could only shuffle along in a sea of people trying not to tread on anyone and hoping not to get swept off in the wrong direction by the current. We met up with a few friends though, which was nice, and we had a sit in the sun for a while and pointed out pretty boys to each other when they occasionally wandered past.
I also had a nice long hold of our friends' baby and felt very paternal: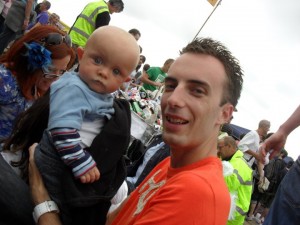 I'm not always that keen on babies, but this one is quite cute and very well-behaved, and he got a good fistful of some lesbian's hair and wouldn't let go for about 5 minutes, of which I approved.
Saturday night was the Kemp Town Street Party, which always gets rather messy for us. It's very easy where we live to pop in and out of the flat to get more drinks (making it cheap too), and I ended up drinking oh I don't know… about three times as much as I had planned? Something like that. My recollection of the latter part of the evening is hazy, but I do recall some straight-looking boys taking their tops off and licking each other's nipples; having a feel of one of my friend's breasts and informing her they are "quite firm actually"; and a boy trying to pull me for about 2 minutes before he realised I had a boyfriend and stalked off in a huff like I'd been deliberately wasting his time.
I had the worst hangover on Sunday and thought my head was going to explode, so I was very, very subdued for a while. I looked lovely, as you can see: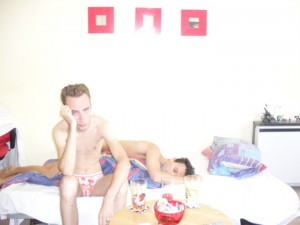 I barely moved for about 3 hours, but then I had to start to shake it off because we had bought tickets for the Wild Fruit Pride Closing Party for that night.
In a radical move, I decided I would try to go out clubbing without drinking, just to see if it was possible. And it was! It was really good actually. OK, I had TWO drinks, but they were only singles and I couldn't actually feel them, and they were just to take the edge off my tiredness. But other than that I was entirely sober, and I didn't mind at all.
It was a bit odd dancing sober, and a bit disconcerting that everything stayed in focus for the entire evening. But it was also a welcome relief to my system, and I think if I had drunk any more I would have just fallen asleep anyway. And I finally managed to have a morning without a hangover on Monday, which felt amaaaazing after the previous days.
So yes, that was Pride, and it was quite good. I've learnt since the weekend that they unfortunately haven't raised enough money YET AGAIN, because people never donate enough on the day, and so I'm not sure what's going to happen with it next year. It's just too big and expensive to run now really – they had 160,000 people apparently, and I think they're either going to have to start charging for some of it or try to scale it down a bit. You can't sustain that sort of growth if your income doesn't increase with it, and the park really can't fit any more people in it next year. So who knows what they'll do. I'm told in Manchester they fence off the entire gay village and charge people for a three-day pass (£15 or something). They could probably do that in Brighton, although it would be a bit of a nightmare to arrange and manage, and I presume I would be exempt from the charge as my house is in the gay bit of town already… I would actually pay something though if they asked, so we'll have to see!