Yesterday was the second session of my social media marketing course over in Hastings. Once again it was quite good, but I probably found this week a bit less interesting than last.
In this session we had a look at the practicalities of creating your presence on social media, focusing in particular on setting up a Facebook Page. While it was good to be shown that, I only really needed about five minutes of instruction for it, and could probably have worked even that out for myself. It was relevant for quite a few of the other people though, as they really aren't very techy and managed to fail abysmally at the task of 'Find the "Create a Page for your business" link and click on it'. They seemed to need intensive personal coaching for that bit.
Some of them also had considerable difficulty understanding the distinction between a Profile and a Page, and the fact that yes your profile technically is a webpage but that doesn't make it a Page with a P. We did get there in the end. Eventually.
Anyway, one of the more useful parts of the session was looking through some good (and bad) examples of Pages on Facebook, and some of the innovative ideas companies have come up with. One of the ones I like particularly is the Coca Cola Page, and the clever thing they've done with their image: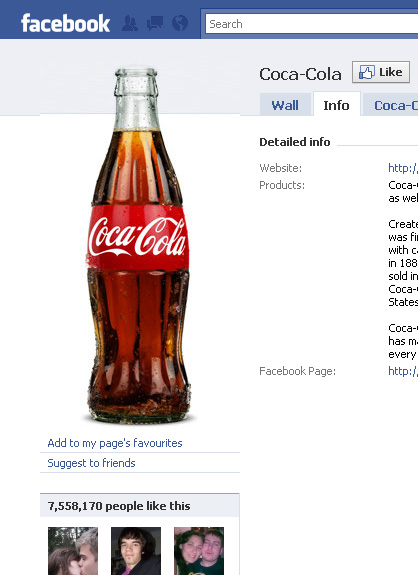 By matching the background of the image to the page background, the bottle appears to sit seamlessly on the page. It is somewhat disappointing that the alignment is out by about 3 pixels no matter what browser I use, which negates a large part of the effect, but the idea is a good one and I might steal it for my own use in the future.
Looking at some examples and then creating our own Facebook Pages was pretty much all we did in two hours, so I did feel like I hadn't learnt a lot, but that's OK. Next week we'll focus more on how you start marketing your social media presence once you've set it up, so I think that will be more useful.